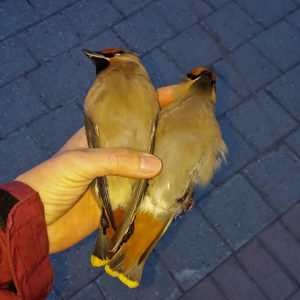 It's a question that Safe Wings Ottawa volunteers get asked a lot. We hear it from people we meet while we're collecting birds. We hear it from fellow bird-lovers who wonder why we devote so much time to birds that are already dead. And we see it in the baffled expressions of friends and family members as we unload yet another batch of bird bodies into the freezer. But no matter how many times we are asked, it's something we continue to do without hesitation, even if it means getting up early, crawling through bushes or even, sometimes, reaching into a garbage can. That's because we do it for some very good reasons.
Collecting birds that have been killed by window collisions allows us to:
 Learn more about window strikes in our city. Our ever-expanding dataset gives us an idea of how many birds die in glass collisions; which buildings, architectural features and parts of the city are most dangerous; which species of birds are the most affected; and more. The better we understand the problem, the better equipped we will be to mitigate and prevent it.
Contribute to a growing body of knowledge. Believe it or not, we're not the only ones who go around collecting dead birds! There are many similar groups across North America as well as researchers dedicated to the problem of window collisions. The more information we generate collectively, the more complete our picture of what is happening across the continent will be.
Educate the public. Most people are eager to take action to prevent collisions once they realize how many birds are killed and how straightforward the solutions are. Each year we create a public display of birds collected the previous year. Those who see it tell us they are astonished and saddened to see that so many birds die hitting Ottawa's windows. We also preserve some of our specimens to display at events, and donate as many as we can to universities and other qualified institutions.
Prove that buildings are killing birds. Because many of the birds killed by collisions are removed quickly by scavengers or maintenance staff, it's easy to underestimate the number a birds killed at a single building. It's easier to convince building managers to take action to make their building bird-friendly when you can give them a body count. Otherwise, they may assume there is no problem and no need to do anything.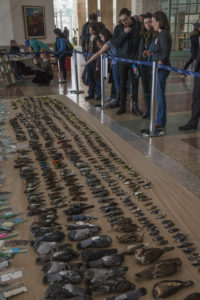 All of the collision data submitted by volunteers and members of the public are compiled in a database and analyzed by statistically-savvy volunteers. You can see some of the results from 2015 on this page. This year we have already collected over 2,400 birds in total! We suspect the increase over last year is largely due to growth in public awareness and the size of our volunteer team. And still, this number represents only a tiny fraction of all collisions throughout the Ottawa-Gatineau area.
We encourage anyone who sees a collision or finds a dead bird to help with our research. All you need to do is follow these instructions for collecting the bird on our behalf and submitting a collision report. Of course, we also encourage you to rescue survivors.  Please not that the Migratory Birds Convention Act makes it illegal to keep dead wild birds or parts of birds in your possession. However, Safe Wings Ottawa holds a permit allowing us to collect collided birds, so make sure you get them to us as soon as possible.
Finally, don't be embarrassed to be seen picking up a dead bird. If anyone asks, just do what we do: See it as a great opportunity to spread awareness of window collisions and to educate others about how to save birds' lives.