The renovated National Arts Centre (NAC) is supposed to be bird-friendly. That's what the National Capital Commission (NCC) and the NAC asked for, and it's what they thought they were getting.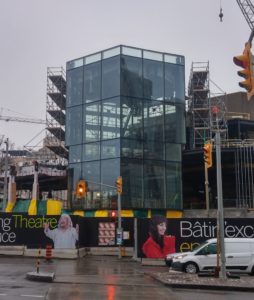 It's what Safe Wings Ottawa was hoping for too. But we do not believe the building will be very bird-friendly — or at least not nearly as bird-friendly as it could have been.
Why? After all, the lead architect recently told CBC that their "custom-tailored recommendation for the NAC" was closely based on the City of Toronto's mandatory guidelines.
Best practices
Let's start with current, widely accepted, evidence-based criteria for bird-friendly glass: Transparent or reflective glazing should have high-contrast visual markers on the exterior surface, with no more than 5 cm x 5 cm (2" x 2") spacing between pattern elements, and a width of at least 5 mm for each marker.
Spacing of 10 cm x 5 cm or even 10 cm x 10 cm is considered acceptable by many guidelines, although this may not prevent collisions by smaller birds.
This rule applies to the first 16 m of a building, measured vertically from the ground, to break up reflections of trees and/or to create a visual barrier on transparent glass.
Now let's look at the custom-made NAC glass façade: The visual markers are beige-brown (low-contrast against both the original brown concrete walls and the sky) and on the interior surface. The spacing ranges from 28 cm x 5 cm to 28 cm x 10 cm, according to the draft Non-Basic Project Environmental Effects Evaluation, approved in January 2016.
How were these specifications determined? The Environmental Effects Evaluation states that, because Ottawa has no bird-friendly guidelines to follow, other cities were looked at: Toronto, Calgary, Vancouver, New York and San Francisco.
Municipal guidelines
Of those, the three most recent sets of guidelines — Vancouver's 2015 Bird Friendly Design Guidelines, New York City's 2015 Bird-Friendly Building Design booklet and San Francisco's 2011 Standards for Bird-Safe Buildings — all specifically require maximum spacing between pattern elements to be 10 cm measured horizontally and 5 cm vertically. They also emphasize the importance of high contrast and application on the exterior of the glass. These guidelines are consistent with current standards in other U.S. cities that have them.
The other two examples of guidelines that were looked at consider 28 cm spacing to be adequate at best, and emphasize that 10 cm is more effective: Toronto's 2007 Bird-Friendly Development Guidelines state: "Birds begin to perceive buildings as objects to be avoided when the distances between features or patterns on glass is at approximately 28 cm, with the most effective pattern distance at 10 cm or less." Calgary's 2011 Bird-Friendly Urban Design Guidelines recommend 10 cm, "although spacing of 28 cm is considered satisfactory".
So this glass does meet Toronto's most basic recommendations from a decade ago. But it does not come close to current, commonly accepted best practices: 10 cm x 5 cm spacing, high contrast, and exterior application.
More importantly, if the NAC glass pattern was based on Toronto's example, why choose to follow the 2007 guidelines instead of the Toronto Green Standard version 2.0, in effect since January 1, 2014? It's requirements clearly state: "Visual markers consist of opaque contrasting points or patterns etched into or applied onto the exterior or interior surfaces of glass and must have a minimum diameter of 5 mm and a maximum spacing of 100 mm x 100 mm (10 cm x 10 cm). Patterns applied closer to the first (exterior) surface, in combination with low reflectance glass, are most visible and effective."
(Toronto's municipally owned buildings, by the way, require spacing to be no greater than 5 cm x 5 cm. For more on the City of Toronto current bird-friendly recommendations, see their excellent 2016 publication Bird-Friendly Best Practices: Glass.)
The apparent failure to adhere to either the requirements or recommendations that were in effect in Toronto for a full two years before the environmental evaluation was signed is surprising, especially for a major firm headquartered in Toronto.
Green certification
The project's environmental evaluation also states that the project will use guidelines for bird collision deterrence established by two green building certification programs: Leadership in Energy and Environmental Design (LEED Pilot Credit 55) and the Building Owners and Managers Association Building Environmental Standards (BOMA BESt). Both require a maximum of 10 cm x 5 cm spacing.
Again, the NAC glass falls short.
At this point, it's hard not to feel like bird-friendly requirements were treated as an architectural afterthought — not as an opportunity for innovation, but as an inconvenient constraint on someone's vision of a transparent glass temple.
Bird-friendly architecture has evolved considerably in the past decade, and there are many creative examples of energy-efficient, bird-friendly buildings around the world, using etched or translucent glass, screenprinting, frit patterns, metalwork, wood sunshades and other techniques to beautiful effect.
It's not that hard — even the wood-slat façade on Jack Astor's Bar & Grill at Lansdowne Park is bird-friendly (the clear glass patio walls are another matter, but also more easily remedied). But it does require us to rethink architecture and reject sparkling glass boxes in favour of more sustainable, more imaginative forms.
We hope our fears of bird deaths at the renovated NAC are overblown, even though the building now features a huge amount of glass, on a treed site in an area where Safe Wings finds most smaller birds, and next to the Rideau Canal and the Ottawa River, both of which serve as flyways for migratory birds.
Whatever dead warblers, chickadees and sparrows turn up in the future, it's disappointing to see such unambitious bird-friendly measures applied to such a high-profile federal building.
It should be disappointing to the NAC too, whose staff was caught off guard by the criticism we began voicing last year. They have been responsive to our concerns, and seem committed to monitoring the situation to see if further bird collision deterrence measures will be required.
The lesson here? Without precise municipal guidelines (apparently now in the works for Ottawa) and more awareness about what's required to effectively deter collisions, we will continue to see "bird-friendly" buildings that fall short, with low-contrast, widely spaced visual markers on the interior surface of the glass.