Volunteer |  Donate | Wish list
---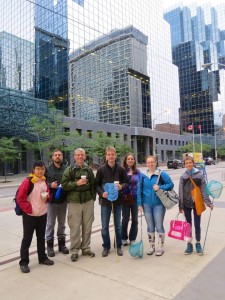 Safe Wings Ottawa needs volunteers to help with building monitoring (patrolling), driving, rescuing birds, outreach and other tasks, especially during migration in spring (April to early June) and fall (August to early November), but also during the rest of the year. Training is provided.
Patroller
Monitor buildings by foot, bike or car to rescue injured birds and collect birds killed by window strikes. Keep detailed records of when and where you find each bird.
Patrols usually start at sunrise, although they can occur throughout the day.
Must be comfortable picking up dead birds and handling stunned and potentially injured birds safely. Training for live bird handling can be provided.
Must keep detailed notes, including when and where each bird is found. The data that we collect through patrols is vital to determining the problem areas in Ottawa and helps us direct our future efforts.
Patrollers are encouraged to choose a particular area or specific buildings to monitor on a regular basis. This is most efficient and provides the most valuable data.
---
Driver
Transport injured birds to Safe Wings' facility in the Glebe or to the Wild Bird Care Centre for medical attention, or pick up dead birds collected by members of the public.
Must have a driver's licence and access to a car on short notice.
Must be willing to transport live birds safely. This means moving them as little as possible, keeping them level, and providing a cool, quiet environment (windows closed, no radio).
---
Respond to requests for help with injured birds. 
Must have experience handling live birds. Rescue/rehab experience is ideal.
Must have a net, boxes, towels, leather gloves and other rescue equipment, and be ready for anything.
Must have good problem-solving and people skills.
Must have a driver's licence and access to a car on short notice.
---
Event and Outreach Assistant
Share the message of how to prevent window strikes. Help us plan and deliver local educational and fundraising events. Or use your social media savvy to help us share the message on Facebook and Twitter.
Must be comfortable communicating with the public at various technical levels (generally basic) and staying consistent with Safe Wings messaging.
Preference will be given to volunteers who also volunteer on patrols, as this is the best way to become comfortable with and knowledgeable about the program.
---
We can always use help translating texts to French, maintaining the website and social media accounts, graphic design, organizing events, fundraising and more.
We have some very specific tasks for which we need help (email info@safewings.ca more information):

Food preparation (recipes supplied)

Help building plywood rescue cages (with specific materials and dimensions)

Taxidermy/specimen preparation
Construction of storage/carrying/display cased for taxidermied specimens
---
Interested in one of these opportunities or have an idea about how you can share your skills in another way? Complete the application form today!  
If you are under the age of 18, please download the PDF version of our volunteer application, as it will need to be signed by a parent or guardian.
---
Download the Safe Wings Ottawa Volunteer Manual [PDF – 8.5 MB]
Download the Safe Wings Ottawa Volunteer Waiver [PDF – 57 KB]
---
New volunteers are automatically subscribed to our email alerts. However, you will have the option to unsubscribe at any time. 
If you wish to be added to the email alert list without officially signing up as a volunteer, click here. Please note that your subscription request will have to be approved by a moderator.