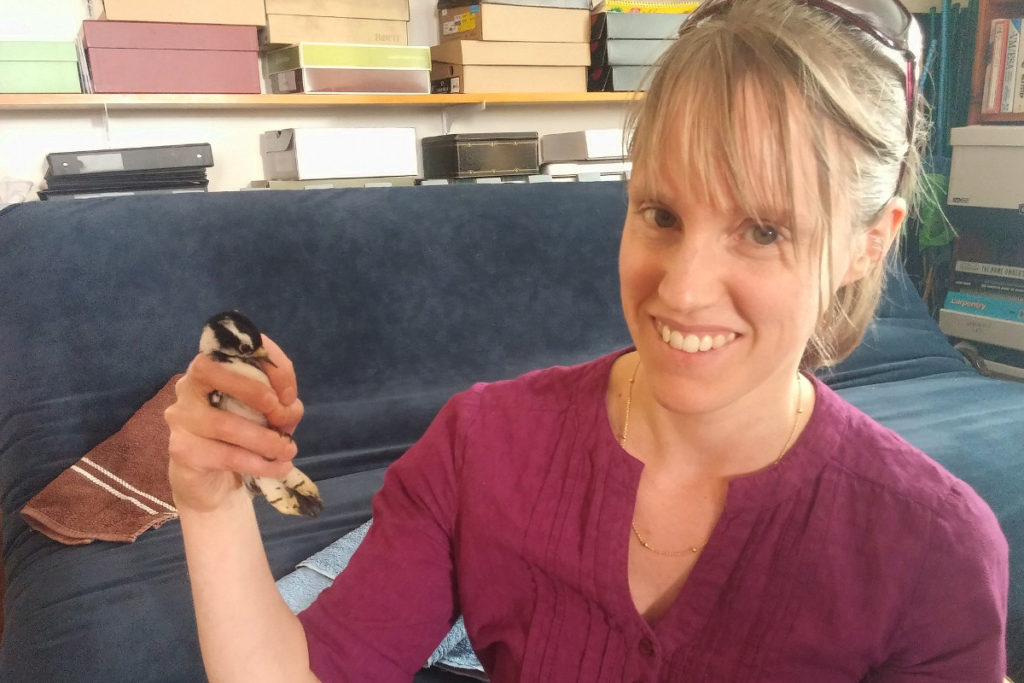 This diary-style post describes a couple of recent rescues, and was written by Safe Wings Ottawa volunteer Ellen Jakubowski. 
28 April, 2017
7:00 am
I set off on my regular patrol route.
7:50 am
I find a female Downy Woodpecker that has collided with a building in Ottawa's west end. At first glance, she looks dead. But then I see her eyelid shudder. I carefully nestle her in a folded cloth at the bottom of an unwaxed paper bag and start carrying her to my car.
7:55 am
On the way back to my car, I retrace the steps I took on my patrol. I notice a small brown shape beside a window that hadn't been there a few minutes before. It looks like a crumpled leaf. I get a closer look. It's a little brown bat! It also collided with a window, and is stunned, but alive. Fortunately, I have a plastic yogurt container in my backpack (bats chew through paper bags). I very carefully scoop the bat into the container using the lid. It lets out some high-pitched chirps and bares its tiny teeth at me.
 8:30 am
I have the following text message conversation with my boyfriend: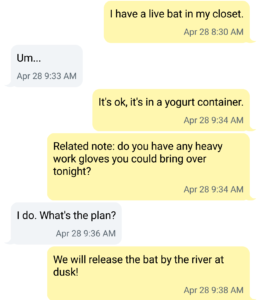 11:15 am
I'm working. The woodpecker and bat are in the next room. I start hearing a noise:
To my surprise, the woodpecker has perked up a lot! I drive her to Anouk's house so she can get some medication for her head trauma, and some food.
8:30 pm
The sun is setting over the Ottawa River. Time to release the bat! Clad in thick gloves, my boyfriend opens the container: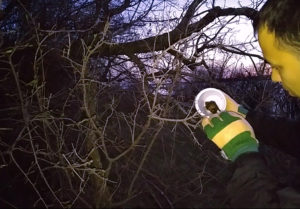 The bat doesn't move. I'm trying to take a video of the release, but the light on my phone is disturbing the bat. As soon as I realize this, and stop filming, the bat swoops into the sky! It's quickly joined by another bat, and they circle the area, feeding. This one does not seem bothered by my shooting a short video as it flies by:
29 April, 2017
3:00 pm
Anouk tells me the woodpecker is energetic, eating well, and probably ready to be released. Here's what she's doing when I get to Anouk's house:
I take the bouncy bird to the Wild Bird Care Centre for a check-up to make sure she's OK. The expert staff deem her ready to go, so I release her in the woods outside. She zooms onto a tree trunk and immediately starts tapping. I'm delighted to have witnessed not one, but two successful recoveries within 32 hours!
—
These are just two examples of the many rescues performed so far this busy migration season, thanks to volunteers and members of the public! If you find a bird that has collided with a window, alive or dead, here's what to do: http://safewings.ca/found-a-bird/injured/