Best practices | Safer homes | Commercial | What does NOT work | Bird-friendly development | Ottawa
---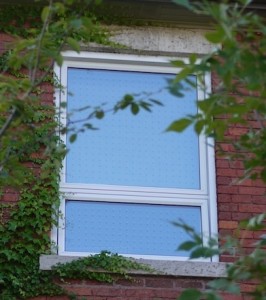 Residences are responsible for 44% of bird collisions, while low-rises (4 to 11 storeys) account for 55%, and high-rises less than 1%. This is because most collisions happen within 5 storeys of the ground, and there are many more houses and low-rise buildings than big towers.
Many of these incidences go unnoticed because homeowners are away during the day, in another room, or otherwise not aware when collisions occur. They also may not find any dead or stunned birds because these are quickly picked off by neighbourhood cats or other creatures.
So just because you haven't witnessed many collisions does not mean your home is not killing birds — for every collision you witness, there may be dozens more every year. And that means treating any hazardous windows as well as clear deck railings can make a tremendous difference.
The key to preventing collisions is to make your windows visible to birds by applying visual markers in a dense pattern, ideally with a maximum gap of 5 cm (2″) between pattern elements, on the exterior surface of the glass. Read on for tips and strategies for reducing collisions at home.
To learn more about this topic, read this informative article: A Crashless Course in Avoiding Bird Collisions (Heidi Trudell, Birder's Guide to Gear, November 2016, PDF version).
If you are replacing your windows, doing a major renovation or building a new home, opt for bird-friendly glass products. 
Click here to find out what DOES NOT work
---
Residential products
The following are collision deterrence products available for existing residential buildings. Some may only be available for order in the United States. You may also want to explore these commercial options.
Please note that Safe Wings is not involved in any way in the sale of these products, but simply provides this information for the benefit of homeowners.
ABC BirdTape

Approx. US$3 per 24″ x 32″ window in U.S.
or CDN$10 in Canada

Easy to install, affordable (especially in the U.S.) and most effective when installed with a maximum of 5 cm (2″) between pattern elements. Less visually pleasing than some other options, the translucent tape allows light in, but partially obscures views. According to the American Bird Conservancy, it lasts at least four years when installed on the exterior surface of a window. Available in 3/4″ and 3″ widths, or in pre-cut 3″ squares.

---

Acopian BirdSavers

US$24 per 24″ x 32″ window (ships from U.S.) or make your own for less


Made of lengths of parachute cord hanging from a horizontal crosspiece, Acopian BirdSavers are easy to install and long lasting. The cords are spaced 11 cm (4 1/4″) apart, but if you make your own, you can reduce the spacing to further increase their effectiveness for small birds. The Acopian website gives directions to build your own, or order them to size online. The original design lets the cords hang loose. The ones pictured here are made with inexpensive, 1/8″ nylon cord attached to vinyl J-channel top and bottom for a cleaner look. The whole unit is attached to the casement window with industrial-strength Velcro. Larger windows may do better with more rigid aluminum J-channel or U-channel, affixed with screws.

---

Aviprotek® Bird-Friendly Glass by Walker Glass

Canadian company

Acid-etched patterns on the exterior surface of Walker Glass' Aviprotek® line provide an elegant and highly effective Canadian solution. Walker is currently expanding its line of bird-friendly glass with products that incorporate effective collision-deterrent patterns with a low-e coating to increase energy efficiency.

Bird Screens

Approx. US$25 per 24″ x 72″ screen (ships from U.S.) or make your own

Screens provide a flexible barrier and visual noise between windows and birds. If installed taut, with a 5 cm (2″) gap between glass and screen, they will also cushion birds from potential impacts. Standard screens have black top and bottom frames, black fiberglass screening (replaceable), and are attached to the top of the window by screw hooks and/or suction cup brackets.

---

CollidEscape

Approx. $36 per 24″ x 32″ window (ships from Canada or U.S.)

Perforated window film (a.k.a. bus wrap), can be applied as a solid sheet, printed with a design, tinted, or cut into shapes. It appears opaque from the outside in daylight, and like a screen from inside. The standard product is equivalent to a 50% window tint, and blocks heat and UV light while preventing collisions. However, the product will appear transparent at night from outside if the building is lit from within, which renders it ineffective against nighttime collisions. CollidEscape is marketed specifically for bird collisions, but any perforated film will be effective. We do not recommend CollidEscape Clear.

---

Feather Friendly® DIY Tape

Approx. $10 per 24″ x 32″ window (ships from Canada)

Adhesive dots applied to the outside of your windows create a pattern that prevents collisions. Comes as a tape, which peels off to leave behind a grid of subtle dots. We recommend 5 cm (2″) between rows for maximum effectiveness. Feather Friendly DIY tape is available online or locally in Ottawa at Wild Birds Unlimited, 1500 Bank St. (in the Blue Heron Mall).

Feather Friendly is also available in different styles for professional installation. Choose a pattern with 5 cm (2″) spacing.

---

SafeBird

From $39.99 per screen (ships from Canada)

Heavy-duty PVC mesh screens mounted on the outside of the window with strong suction cups, which can be removed in seconds. The printed images, which can be customized, create visual noise and reduce reflections so birds will not fly into the glass. From the outside, you can see the image of your choice. From the inside, they provide a relatively clear view out.

---

Santa Rosa National Crash Preventers

Approx. US$28 per 48″ x  84″ window (ships from U.S.)

Barriers of monofilament nylon lines attached to metal tubing, and offset from the window. The effectiveness of this product is not well known. The wires are spaced 3″ apart, and there is a risk that birds could get tangled in the lines.

---

Solyx® Bird Safety Film

Approx. US$31 per 24″ x 32″ window (ships from U.S.)

External window film available in horizontal and vertical stripes. May require professional installation.

---

Window Alert™

Approx. US$28 per 24″ x 32″ window (available in Canada and U.S.)

UV-reflecting decals have proven effective only when applied in a dense pattern with a maximum 5 cm (2″) spacing between decals. Decals are minimally visible to people under ordinary conditions. They should be replaced every 12-18 months for maximum effectiveness.

Also available as a liquid, which our tests determined to be too runny.
---
Homemade solutions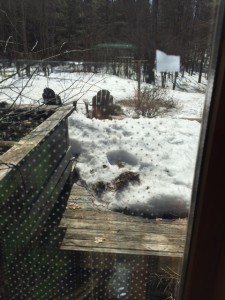 Apply frosted or patterned decorative window film, available at home improvement stores.
Make a pattern with vinyl automotive trim tape (e.g. Trimbrite)
Tape densely patterned cellophane wrapping to the exterior of the window, available at dollar stores.
Decorate windows with tempera paint (from art supply or craft store) applied with a brush, sponge or stencil. Tempera is long-lasting, non-toxic, and can be wiped off with a damp rag or sponge.
Hang lengths of ribbon, string or parachute cord in front of windows, spaced 5 cm (2″) apart.
Stretch lightweight netting or screening across the outside of your windows, leaving at least 5 cm (2″) of space between the netting and glass. Make sure the material is stretched taut.
Apply decals or stickers in a dense pattern; too much space between decals will significantly reduce their effectiveness.
"Paint" windows with soap, erasable marker or a highlighter pen, reapply after rain.
Apply whitewash to windows (made from hydrated lime powder from the hardware store) at the start of migration season, and wash it off at the end.
---
Other strategies
Relocate bird feeders and bird baths to less than 50 cm (1 1/2 feet) or more than 9 m (30 feet) from windows.
Close curtains or blinds to reduce clear views through opposite or adjacent windows.
Move houseplants away from windows so birds can't easily see them.
---
For additional information, visit the American Bird Conservancy and Fatal Light Awareness Program websites.