Best practices | Safer homes | Commercial | What does NOT work | Bird-friendly development | Ottawa
---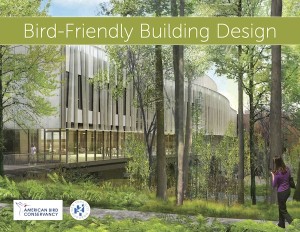 The most cost-effective way to ensure that buildings are bird-friendly is to build them that way in the first place, and to integrate bird-safe measures from the start of the planning process. However, there are also various products and strategies available to retrofit existing buildings.
See the links below for detailed information on bird-friendly design, and for a summary of products suitable for commercial/institutional application.
Following the most recent guidelines and best practices will help ensure that bird-friendly measures are as effective as possible. Don't waste your money or efforts on techniques that do not meet current standards. 
For site-specific assessments and recommendations, contact anouk@safewings.ca.
---
Bird-friendly design resources
---
Architectural products
The following products have been tested by the American Bird Conservancy and/or the Fatal Light Awareness Program Canada. Most are not available for retail purchase. Contact an architect, glass supplier or contractor if interested.
Bird-friendly buildings need not cost more than other buildings if you consider bird-friendly design from the outset. Products listed here have Material Threat Factor Scores below 30 and are suitable for meeting the USGBC LEED™ Pilot Credit 55: Bird Collision Deterrence, and for meeting requirements of local ordinances in San Francisco, Toronto, Highland Park, Oakland, and others, as well as the State of Minnesota's B3 guidelines.
Aviprotek® Bird-Friendly Glass by Walker Glass

Acid-etched patterns on the exterior surface of Walker Glass' Aviprotek® line provide an elegant and highly effective Canadian solution. Walker is currently expanding its line of bird-friendly glass with products that incorporate highly effective, first-surface collision-deterrent patterns with a second-surface low-e coating to increase energy efficiency.

Bendheim Wall Systems' Lambert Channel Glass

This modular product deters collisions, is made of up to 60% recycled materials, and features low-emissivity coatings.

CollidEscape

Perforated window film, a.k.a. bus wrap, can be applied as a solid sheet, printed with a design, tinted, or laser-cut into stripes or other shapes for a customized pattern. It appears opaque from the outside in daylight, and like a screen from inside. The standard product is equivalent to a 50% window tint, and blocks heat and UV light while preventing collisions. However, the product will appear transparent at night from outside if the interior is lit, rendering it ineffective against nighttime collisions. CollidEscape is marketed specifically for bird-collision deterrence, but any perforated film will be effective. If cutting perforated film into stripes or shapes, please choose a high-contrast colour. We do not recommend CollidEscape Clear except for full coverage. Stripes or shapes of clear film do not produce enough contrast for most applications.

Evonik Industries' Acrylite Soundstop BirdGuard

This acrylic plexiglass has embedded polyamide threads for sliver retention and bird protection. Generally used for noise barriers, it is also suitable for use in handrails in outdoor settings.

Feather Friendly by Convenience Group

These external vinyl patterns, developed by a Canadian company, have proven highly effective on many buildings in the Toronto area. Users have reported significant reductions in collisions.

GlasPro Bird Safe Glass

This product is used for buildings and zoos where building owners want maximum transparency. Inks are rated for a minimum 30-year lifespan in an exterior application, with a lead time of less than 6 weeks.

Goldray Industries Bird Friendly Glass

Goldray's Bird Friendly Glass features pigmented glass enamel permanently fused to the first surface to reduce glare and provide visual noise. This first-surface ceramic frit is much more effective than a frit pattern applied to an interior surface, and is available in solid colors and patterns.

Goldray claims it has exceptional chemical, UV and weather resistant properties, which enable it to withstand the elements in exterior applications.

Ornilux Low-e Neutral Adv. N33 & Low-e Neutral Uno N10 by Arnold Glas

Ornilux's Mikado bird protection glass, according to their literature, prevents up to 71% of bird/window collisions. However, UV patterns are applied on the interior surface of the first layer of glass, and one study (Klem and Saenger 2013) concluded that the UV signal from Mikado is ineffective in alerting birds to the window hazard, and may even increase collisions.

Solyx® Bird Safety Film

This external film is available in horizontal and vertical stripes and is very effective.

Viracon

Several Viracon products, including Screen 2256 (20% coverage, 1/8" lines) in V901 Dark Gray or V948 Medium Gray, and Screen 5006 (40% coverage, 1/8" dots) in V175 High Opacity White, have low-emissivity coatings and provide solar control and bird collision deterrence.
Source: American Bird Conservancy and Fatal Light Awareness Program Canada