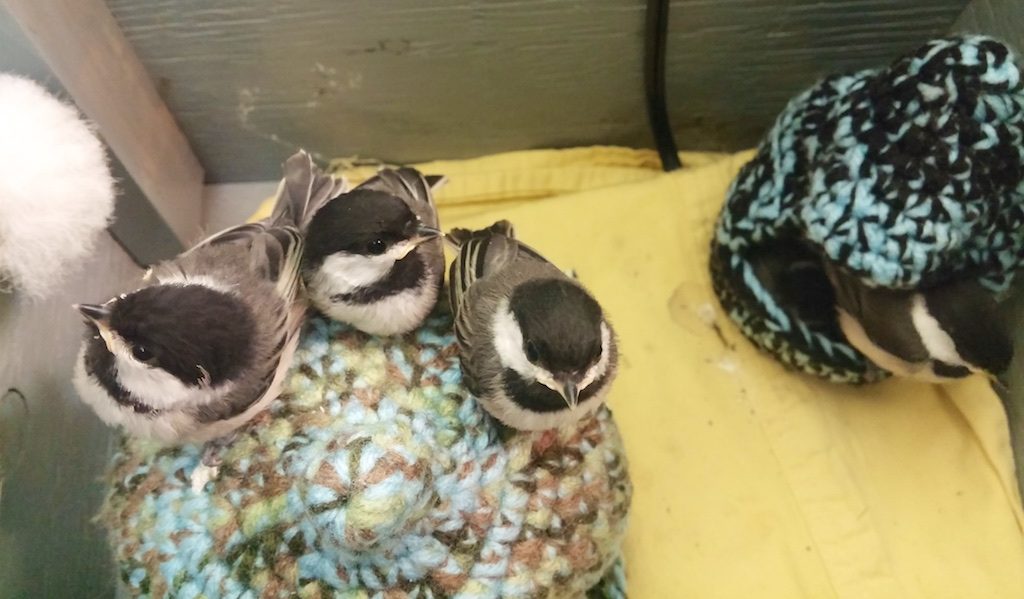 Safe Wings received an unexpected gift one recent evening: six absolutely adorable little Black-capped Chickadees.
The four visible here could already fly quite well, one was just getting started, and the last one still had some growing up to do. They ate a lot of crickets during their stay.
Cute as they were, the reason they came to us was not: They were orphaned when one parent disappeared and the second one crashed into a window in Plantagenet. After watching to see if, in fact, the other parent would return, the homeowner called us for advice.
Still just on the verge of fledging, the young and very hungry Chickadees would be unable to fend for themselves just yet. So we set up a bit of a relay to get them first  to Orleans, then to the Glebe via Deb. Finally, the next morning, Tom drove them to the Wild Bird Care Centre, where we hope they will finish growing up and can eventually be released.
If you' don't think it's worth the effort to make your home bird-friendly because you've only noticed one or two birds collide every year, consider this: That one window strikes at one house in Plantagenet killed one adult Chickadee outright, but it would have killed six more little birds if not for the caring individual who a) heard the collision and found the bird, b) knew there was a nest of young depending on their parent to feed them, and c) took quick action to get them the care they needed.
The one or two window strikes you notice (there are probably more) not only kill healthy birds in the prime their life, they can also doom young birds to death by starvation.
So for the love of birds, go and do something about your windows now!