This post was written by Safe Wings Ottawa volunteer Amanda Dookie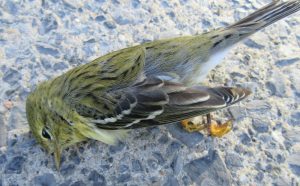 Fall is a challenging time for birds as they transition out of the breeding season and contend with changing weather conditions and migration. Stewardship efforts at this time can go a long way.
Fall Migration and Window Collisions
Studies have found that up to 90% of bird collisions occur during spring and fall migration, depending on the region. More than 75% of Canada's bird species are migratory, so the risk for bird-window collisions in Canada is extremely high during the fall.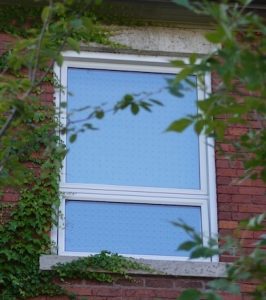 Fall is a great time to help protect birds from window collisions by making your windows bird-friendly, and by spreading the message that making windows visible to birds saves lives. It's also an extremely busy time for Safe Wings and we are always looking for new volunteers. Visit our Help Us page for more information on how you can help Safe Wings this fall.
Avian Trichomoniasis
Avian trichomoniasis, a highly infectious and often deadly disease in birds, has been spreading rapidly across Eastern Canada. All signs point to the disease spreading westward throughout Canada, with one probable case currently reported in Ottawa.
The disease is caused by the parasite Trichomonas gallinae. Symptoms include lesions on the mouth, throat, lungs and digestive organs of birds. These lesions cause inflammation of the membranes, which lead to difficulties with swallowing, diarrhea and in some cases, sudden death. Visible signs of trichomoniasis in birds include discoloured fluid around the beak, weight loss, loss of balance, and dull, ruffled feathers*. While the current outbreak in Eastern Canada is afflicting finches in particular, it can affect all bird species, including captive birds. Humans and other mammals are not susceptible to the disease.
*NB: Birds may also appear to have ruffled plumage when they are moulting, most often before and after their breeding season during the spring and the fall.
What you can do to help stop the spread of Avian trichomoniasis:
If you live in Eastern Canada (east of Manitoba)
Trichomoniasis can be transmitted through contaminated water and food. You can help stop the spread of trichomoniasis in birds by taking down bird feeders and baths immediately. Remember to clean feeders and baths thoroughly before putting them away for the season. Do not feed birds by putting seed on the ground, since this can also spread the disease.
If you live in Western Canada (from Manitoba to B.C.)
Keep track of the Avian Trichomoniasis spread map to monitor the spread of the disease to birds in your area and report suspected cases to the Canadian Wildlife Health Cooperative. If you decide to keep your bird feeders and baths up for now, remember to wash and disinfect them regularly (every 1-2 weeks). Also, be sure to place feeders and baths either less than 50 cm or more than 9 m away from windows to help prevent bird collisions.