This post is part of a series acknowledging our amazing volunteers and providing a behind-the-scenes look at what we do. See more volunteer profiles.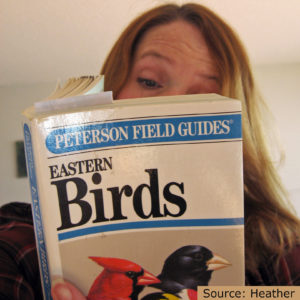 Volunteer position: Patroller, Outreach Assistant and more
Safe Wings Ottawa volunteer since: August 2015
How did you first get involved with Safe Wings Ottawa? 
While I had heard about birds colliding with Toronto skyscrapers it hadn't occurred to me it'd be an issue up here in Ottawa.  Then I saw an article on the display of collected birds at the Museum of Nature last spring.  I spoke with Anouk and Cynthia at their info table at a Bird Day event and quickly knew with certainty this is a group and a cause I want to be part of.
What are some of the activities you've done as a Safe Wings volunteer?
Patrolling on weekends, scouting new areas to patrol, manning an info table at Nature Nocturne, reviewing text for website and presentations, and taking opportunities to raise the issue with colleagues, friends, and contacts.
What has been one of your most memorable experiences so far?
Seeing Anouk scoop up an uninjured but disoriented mallard from a downtown sidewalk and deftly deposit the duck in her bike pannier.  A quick ride to a nearby pond and the confused quacker was released and paddling about again.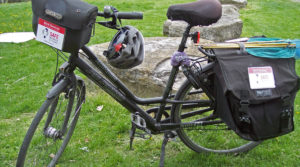 Why do you volunteer with Safe Wings?
While my bird identification abilities didn't extend much past typical suburban backyard birds, I've always had a 'soft spot' for birds. I'm cheered by the plucky chickadee toughing out the winter, chuffed by each woodpecker and cardinal visiting my feeders. It saddens me that such beautiful, positive, and widely-loved little creatures are experiencing precipitous population declines in the face of a myriad of threats.  I see volunteering with Safe Wings as a way I can personally contribute to mitigation of at least one of those threats, right here in Ottawa. (And my bird identification skills are improving – plenty of time to check for wing bars and eye rings when they're lying still, sadly).
What do you find most rewarding?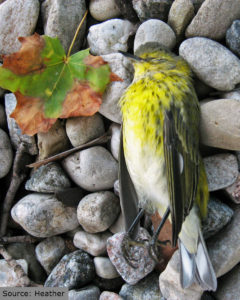 I find it rewarding to educate others about the issue of bird collisions and refer them to the Safe Wings site for clear information and solutions.  I feel like I'm contributing to the leading edge of an emerging issue; building data, raising awareness, and fostering measures that will prevent collisions.
I'm also enjoying continually learning about the issue and birds in general.  So many interesting articles get posted.
I also was surprised by what you'll find once you start paying attention. Once I was on the lookout for expanses of glass, I was noticing buildings that I used to pass by without a thought. It was sobering to discover birds were frequently colliding at a small suburban office building that I used to work in.  I was completely unaware of the bird strikes at the time, though they likely were lying just around the corner from the front door.  So take a couple extra minutes on your way into work, whether it's a tower downtown or a one-storey in an industrial park, and walk around the perimeter checking the ground below windows. You may be surprised at what you find. Then call Safe Wings.
Want to learn more about volunteer opportunities with Safe Wings Ottawa? Visit our volunteer page.