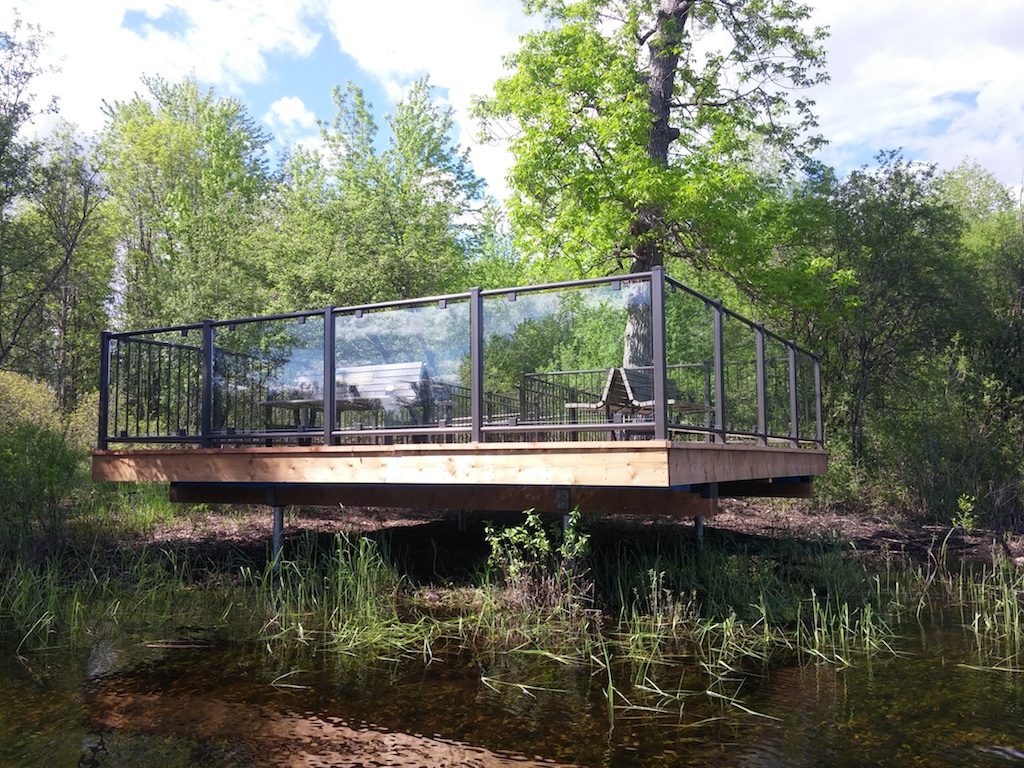 This new viewing platform is a focal point of the Tay River Trail at 99 Christie Lake Rd., just outside Perth. The recreational facility, a project of the Rideau Valley Conservation Authority, Lanark County Council of Family and Friends, and the Lanark County Municipal Trails Corporation, and the Tay Valley Township, is no doubt popular with local residents and visitors, especially those with limited mobility.
However, the clear glass surrounding the platform on two sides poses a lethal hazard to birds. Because birds do not understand glass, the walls of the viewing platform act as invisible obstacles that will literally stop birds dead as they fly along the river, or between the river and the vegetation along the shore. Some would land on the platform, while many would end up in the water, unnoticed.
This hazard is likely an oversight; probably no one involved in the project was aware of the danger of installing clear panes of glass in a natural setting. It is certainly not an isolated case: Glass-enclosed viewing platforms, like the windows of park visitor centres and other clear or mirrored glass in the middle of wildlife habitat, are among the most deadly structures for birds. How ironic that so many structures whose very purpose is to encourage an appreciation of nature inadvertently end up killing it!<.
Now that this issue has been brought to the attention of the parties responsible, we hope they will consider applying a patterned film or other visual markers to the glass to prevent unnecessary bird deaths. Safe Wings Ottawa is always happy to provide advice on how best to remedy such unfortunate situations.
We encourage everyone to look at the best practices for bird collision deterrence at http://safewings.ca/strategies/best-practices/, and to explore solutions suitable for a small area like this at http://safewings.ca/strategies/homes/.