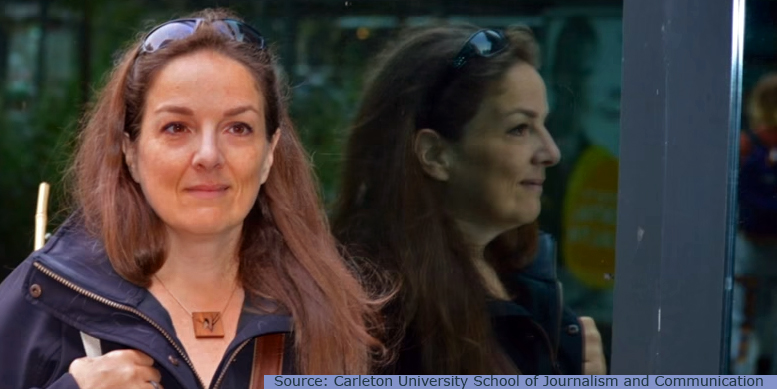 This post is part of a series acknowledging our amazing volunteers and providing a behind-the-scenes look at what we do. See more volunteer profiles. 
Volunteer position: Patroller, driver, training leader, fundraiser, spokesperson (at info booths, etc.)
Safe Wings Ottawa volunteer since: the very beginning!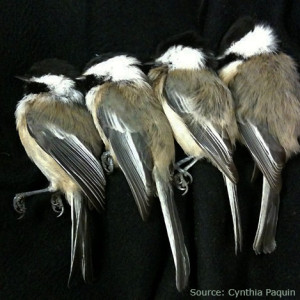 How did you first get involved with Safe Wings Ottawa?
In September 2010, I was first confronted with the issue of birds colliding with buildings. Birds were suddenly hitting my downtown office window with startling regularity – every 20 minutes some days . . . Of the dozens that hit that fall, I was able to save only three. Over the years, [many species] have hit that same spot: Black-capped Chickadees, Downy Woodpeckers, Brown Creepers, House Sparrows, Yellow-bellied Sapsuckers, and far too many warblers to count. I tried to affect some change within my building but had no success. Then in late 2013, I saw a post on the Ottawa Field Naturalists' Club Facebook page from Anouk Hoedeman asking if anyone might be interested in joining a local bird-collision prevention initiative. I jumped in with both feet and haven't looked back!
What are some of the activities you've done as a Safe Wings volunteer?
I mainly patrol buildings looking for birds that have collided with windows – helping those I can and collecting the bodies of those that haven't survived the impact. I also lead training patrols for new volunteers in the downtown area. But I'm a jack-of-all-trades with Safe Wings. I have: responded to calls about injured birds from Embrun to Kanata, driven birds to the Wild Bird Care Centre for treatment, released birds deemed to be healthy enough to continue on their journey, organized a bake-sale fundraiser, written an article for Healthwise Ottawa and been the subject of a student-produced short documentary video to raise awareness of the issue.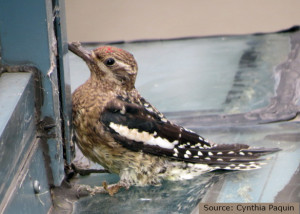 What has been one of your most memorable experiences so far?
One that sticks out is finding a Yellow-bellied Sapsucker on the 3rd floor terrace of the building I work in. It was in the afternoon. She had clearly hit and was scared, but she skittered past me, just out of reach. I waited for a while, but she was very stressed and my presence seemed to be making the situation worse. I went back out the next morning, hoping that she had made her way to safety, only to watch her fly back and forth between two mirrored faces of the building at least half a dozen more times. After waiting quietly and patiently, I was finally able to catch her. The poor thing was bruised and exhausted, but had no broken bones. She was brought to the Wild Bird Care Centre for some TLC and released weeks later.
What do you find most rewarding?
Migrating songbirds are dying by the hundreds of millions every year from entirely preventable causes (primarily cat predation and window collisions). I volunteer with Safe Wings to be a part of the solution for these amazing little guys. The population numbers for many species of songbirds are in freefall decline. If we don't act now – we'll lose them forever. I don't want to live in a world without birds.
Want to learn more about volunteer opportunities with Safe Wings Ottawa? Visit our volunteer page.