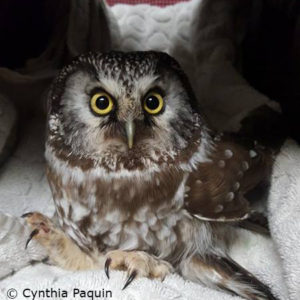 Last weekend was a very exciting one for certain Safe Wings Ottawa volunteers and some lucky birds! It all began when a concerned member of the public called Safe Wings to report an owl in need of help in downtown Ottawa. Volunteer Cynthia Paquin tells the tale:
"The caller said that the owl was sitting on the sidewalk, completely still. She thought it was dead, but then, it blinked. [Another volunteer] and I rushed down there, but couldn't find it anywhere. We looked around the area to no avail, but in our search, I did find a very sad-looking pigeon."
Cynthia rushed the pigeon to the Wild Bird Care Centre, where it was diagnosed with Trichomonosis (a parasite affecting the throat) and kept for treatment. While she was there, she learned the centre had just received a call about an owl that had been retrieved downtown. Coincidence…?
"I (Cynthia) raced back downtown to find the owl, looking very regal, sitting loose on a pillow on the man's bed! And … another quick trip to the Wild Bird Care Centre. What a morning!"
The awesome staff at the centre worked their magic, and last Wednesday, the spunky Boreal Owl was released. Check out some great photos of the release on the Wild Bird Care Centre's Facebook page.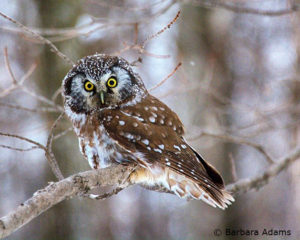 It always hurts to see a bird injured by a window collision, but a happy ending is a big relief. Please explore the menus at the top of the page to learn about preventing collisions, if you haven't already, and help keep birds safely in the air!