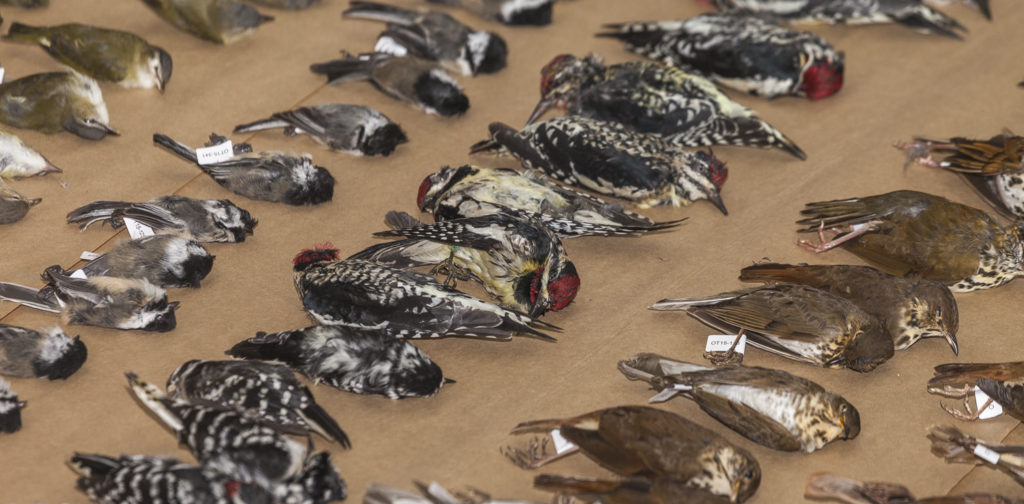 Monday, February 27
11 am – 1:30 pm
Ottawa City Hall, 110 Laurier Ave. W.
Please join Safe Wings Ottawa for our annual bird display, a visually striking layout of more than 1,700 window-collision victims collected by our volunteers last year. This free event raises awareness of bird-building collisions and educates people about causes and solutions.
Last year, our display received a lot of media coverage and public attention, which was magnified a few days later when dozens of Bohemian Waxwings died in collisions with the raised glass passageway at City Hall. Since then, this major hazard has been addressed by applying a simple pattern of dots that make the glass visible to birds.
But other structures large and small continue to kill migratory birds, contributing to one of the worst causes of declining bird populations. We estimate that buildings of all kinds, including private residences, kill between 250,00 and 500,000 birds every year throughout the City of Ottawa.
Find out what Safe Wings Ottawa is doing and what we can all do to address this problem.
Help us publicize this event by sharing this email with your friends and colleagues, and by downloading the bilingual event poster. New volunteers welcome.
Safe Wings wishes to thank Somerset Ward Councillor Catherine McKenney for hosting our bird display at City Hall