It may still be summer, but fall migration has begun: The past week brought our first migrant species heading south, including several Tennessee Warblers, and many newly independent young birds running into trouble.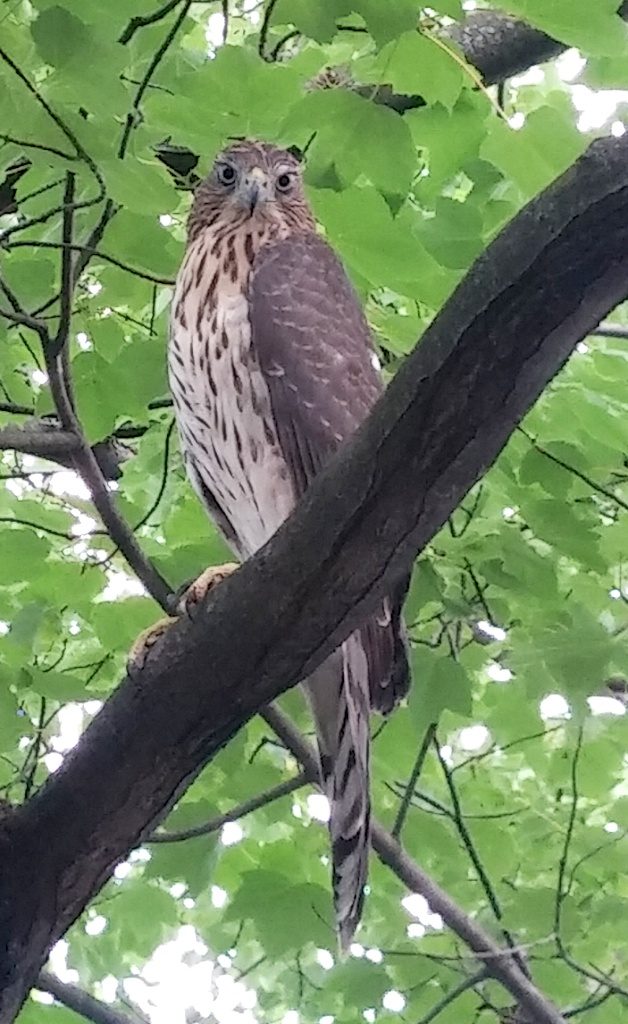 One of these was also a new species for us: this juvenile Cooper's Hawk collided with a house in Alta Vista. By the time we got there, her head had cleared enough for her to escape capture. That may sound like a good thing, but being able to fly and being uninjured are not the same.
Despite showing clear signs of a hurt shoulder and foot, this young raptor managed to fly across the street and land on a branch about 10 feet up. She sat there staring down at us, fully alert and virtually impossible to catch at that point. If we had gotten a ladder, she would have simply flown to another branch. We hope her injuries are not serious and that she'll recover on her own.
The Cooper's Hawk was one of 16 collisions logged on July 31, bringing our cumulative tally for the year to 950. By the close of July last year, we had recorded just 212, and our total for all of 2015 was 1,297.
Why the enormous difference? A few more volunteers and a lot more public awareness. Still, these numbers represent just a tiny fraction of of the birds injured and killed in collisions in the Ottawa area.
Our spring migration season started with a bang (many of them, actually) thanks to a late winter/early spring irruption of Bohemian Waxwings, Common Redpolls and Pine Siskins. Many members of these species died in collisions with windows all over town, most notably at Ottawa City Hall's second-storey glass passageway — since covered in a dense pattern of dots to prevent further bird deaths.
The media attention generated by these collisions raised awareness of the problem of window strikes, and of the existence of our group. As a result, we have been fielding vastly more calls from people reporting collisions, seeking help with injured birds (or birds appearing to be injured, in the case of many freshly fledged youngsters), and asking for advice on preventing collisions. 
We have also started to generate interest among public officials, facilities managers and the building industry, which has brought opportunities to advise and collaborate on solutions.
This is all good news, because awareness is the first step in preventing collisions, but the increased attention and greater demands on our time mean there are not enough hours in a day to take advantage of many of these new opportunities! 
If you would like to help Safe Wings, either by monitoring one or more buildings for collisions, by transporting birds for us, or by contributing your time and talents in other areas, please sign up now! You may also want to see what you can do to make windows safer for birds both at home and at work or school.
We will schedule some volunteer orientation sessions in the coming weeks, so keep your eye on this site — and on those windows.